WILDERNESS CONVENIENCE: OUTHOUSES AND SHOWER HOUSE
At our Lodge, we celebrate rustic simplicity while ensuring all your basic needs are met. We blend the rustic charm of camping with essential modern comforts to create an unforgettable, well-rounded experience for our guests.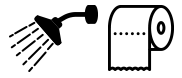 Rustic Comfort
Outhouses
At our Lodge, we offer a unique and rustic camping experience with cabins that do not have plumbing. Instead, we have two separate outhouses, one located at each end of the camp, which are diligently maintained for cleanliness. Additionally, there is a dedicated outhouse for women to ensure privacy. Embrace the back-to-basics experience, disconnect from the modern world, and enjoy the simplicity and serenity of our camp.
Shower House
Our shower house features two private stalls with locking doors, guaranteeing a secure and pleasant experience for all guests. With continuous access to hot and cold running water, you can freshen up at any time that suits you. Whether you've been out exploring the great outdoors or simply require a hassle-free shower, our well maintained facility ensures a comfortable stay throughout your visit.