Lake Trout Fishing on Red Lake, Ontario, Canada
Lake Trout are captivating freshwater fish that inhabit the chilly, deep lakes of North America. With their sleek bodies displaying colors ranging from greens to silvers, they perfectly blend with the pristine waters they call home. These fish are celebrated for their substantial size and robustness, making them a prized catch for those seeking an exhilarating fishing experience. Lake Trout showcase their exceptional adaptability by thriving in the cold depths of these lakes, demonstrating a remarkable harmony with their environment. While reeling in these big fish might require some patience due to their strength, the rewarding feeling of success is undoubtedly worth the effort.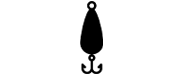 Prime Lake Trout Fishing Experience
Experience the ultimate Lake Trout fishing adventure at Red Lake's west end in Ontario—a destination renowned for its exceptional angling opportunities. As your base of adventure, Black Bear Lodge offers the insider's edge to the finest fishing spots for these prized fish. With a track record of exceptional success, we proudly share our well-kept secrets to ensure your fishing escapade is nothing short of remarkable. In 2023 alone, our guests reeled in over 100 Lakers, with the crowning jewel being an impressive 40-inch catch. Join us at Black Bear Lodge to experience firsthand the thrill of angling amidst the breathtaking landscapes of Red Lake, where each cast promises the potential for an unforgettable Lake Trout encounter.